Need a dentist in Chevallum? Choose Doonan Dental!
Local Dentist for All Your Dental Health Needs
Looking for a Dentist near

Chevallum

?
Doonan Dental is a family-focused dental practice based in Maleny, on the Sunshine Coast. Dentist and Prosthodontist Keith Doonan specialises in a variety of dental procedures and treatments and places a strong focus on holistic care. Our patient-centric approach reflects our dedication to our patients and our determination on providing the best quality dental services near Chevallum!
Here at Doonan Dental, we utilise modern dentistry practices to combat common issues in the mouth. This includes using bio-compatible, non-toxic materials and techniques in combination with traditional dental methods to maintain oral and overall physical well-being. We support a holistic approach to dentistry as the health of our mouths is closely linked to the well being of our entire system, shown by the link between periodontitis and cardiovascular disease.
We can help with issues related to sleep apnoea, concerns around amalgam toxicity, and temporomandibular joint disorder (TMJ), in addition to our dental services. We can also offer nutritional advice and oral hygiene instruction to empower you in your self care.
Contact us to make an appointment or visit our FAQs page for more information on various different dental treatments and services we provide.
We hope that you will feel at home in our dental practice. Our aim is to provide as relaxing an experience as possible. We value our customers and thank you for choosing Doonan Dental.
What is Holistic Dentistry?
Holistic Dentistry is an integration of natural health concepts and conventional medicine to achieve optimal wellbeing.
Holistic dentistry takes into account how the entire body responds to dental care. We take this approach to dentistry as anything that you place in your mouth can directly affect not only your teeth but also the rest of your body. Evidence has been found supporting this philosophy such as the connection between periodontitis and cardiovascular and diabetic issues. Oral cancer can also lead to cancer elsewhere in the body if left untreated and undetected.
In order to prevent serious conditions in the mouth and body, Dr. Keith Doonan will meticulously evaluate your mouth for discrepancies.
Holistic Dentistry Services:
All-encompassing dental care which includes a broad range of treatments
Early diagnosis of dental conditions and meticulous and logical treatment planning
Preventative care (regular cleaning and dental education) which also assists oral hygiene
Treatment of gum disease and gingivitis
Mercury free restorations (such as the installation of white fillings instead of amalgam fillings)
Advice on nutrition which can affect your teeth and your general health
Our Range of Dental Services
Dentures can greatly improve the quality of life for those with few or no teeth. An improved ability to bite and chew food, combined with little restriction on what you can eat, means that dentures protect what teeth you have left while restoring the function regular teeth would serve. In order to fully benefit from dentures, you need an experienced dentist.
In addition to general dental qualifications, Dr Keith Doonan has a Masters in Prosthodontics, which is the specialty of making dentures. He has also taught and lectured on this subject at University for several years. He provides an advanced service for patients who require a custom set of dentures, who have difficulty in wearing dentures or who wish to be treated with a high level of expertise.
Dental implants are the most successful form of treatment available for the replacement of missing teeth. They look and feel more like natural teeth than any other option available.
Dr Keith Doonan, a dental implant expert of North Brisbane, discusses what dental implants are, why they are often a favoured option for missing teeth, and what is involved in preparing, fitting them and in proper dental implant placement.
For high quality dental treatment, make an appointment at Doonan Dental today.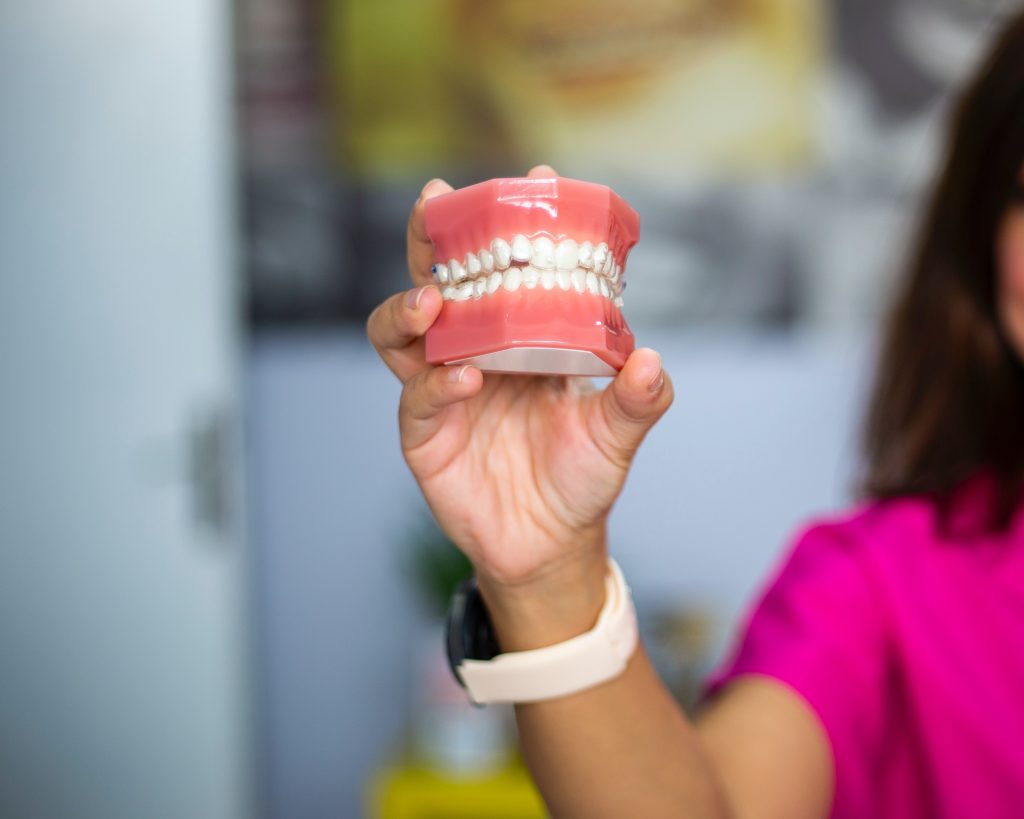 Crowns and bridges are a clear option to replace missing teeth and restore function and aesthetics to the smile. They are both a restorative and cosmetic dental treatment because they enhance and restore the appearance of the natural tooth structure by imitating the shape and colour of your natural tooth. They are often used when a tooth has become decayed, cracked or has been otherwise affected by dental disease such as periodontitis.
Crowns and bridges can also be used after a root canal therapy procedure where one of our dental professionals will attempt to salvage your natural tooth by removing damaged pulp.
Tooth extractions are sometimes necessary and unavoidable. There are a number of dental issues that can arise that could require an extraction, such as:
Broken or decayed teeth

Infected or abscessed teeth

Poor health of the gum around the tooth

Teeth which have emerged and grown crookedly

Wisdom teeth, which, as they emerge, can cause difficulty chewing, pain and lead to declined oral hygiene.
Dr Keith Doonan will avoid extracting teeth whenever possible, but sometimes it has to be done. Smile though – times have changed and extractions are no-longer the feared procedure they used to be!
Third molars, or wisdom teeth, are the final teeth to develop in the dentition. They generally emerge between the ages of 17 and 21. Many factors affect wisdom teeth and not everyone will have the same experiences – some people will have four wisdom teeth and some will have none.
The most common problems are that these teeth can be 'fully impacted' under the gum or they may only erupt halfway – a 'partial eruption'. They can often erupt at different angles due to the lack of room for them in your jaw. This can make cleaning difficult, cause pain, infection, crowding, cysts, or damage to nearby teeth. Removal is often the only solution.
Root canal treatment is often perceived as an uncomfortable and painful procedure, which many people delay having. However the main purpose of root canal therapy is to relieve pain caused by an infected nerve.
The tooth is saved and restored back to its full function and appearance.
Infection can be caused through an accident where the tooth has received a heavy blow or from deep decay. If left untreated, an abscess may develop increasing pain and the likelihood of the tooth needing to be removed.
Through advancements in dental technology, in conjunction with the use of specially developed fine instruments, your root canal experts at Doonan Dental can remove the infected pulp, seal and protect your root canal chamber with tiny cone shaped fillers and restore your tooth with a high quality porcelain crown.
Dr Keith Doonan, dentist near Chevallum, has many years of experience of whitening teeth with over a thousand cases of teeth whitening completed.
Before you can choose whether or not teeth whitening is for you, you need to be confident that you are dealing with proven experts in the field. You also need enough background information to understand your options before you can make an informed choice as to which teeth whitening option may be best for you.
Doonan Dental offers expert teeth whitening services with proven effectiveness from years of experience. Feel free to get in touch to discuss your particular needs. You can call in for a consultation or feel free to fire us a quick question via phone or via our web enquiry form.
Doonan Dental is nestled in Maleny's Coral Street in a blue cottage styled surgery. We understand that everyone is unique and aim to provide a caring environment and comfortable experience where everyone feels at home.
Dr Keith Doonan has an energetic and focused approach to dentistry and is committed to providing leading edge dental care.